Published 30 January 2023
A journey that changes lives
It's November 2022. At The Mama Norah Education Centre in the small village of Wagwe, on the shore of Lake Victoria in Kenya, the school yard is teeming with activities. 
Read more about all Clubs & Societies at SSHL
It's time for the breakfast break and the school's 180 students are drinking gruel from their colourful mugs.The youngest students have already had their breakfast and are busy playing at the swings and the slide, others are peering curiously at the visitors who have arrived.
This particular day it is more lively than usual. The founder of the school is visiting, together with a group from Sweden and the air is thick with expectations.
A warm welcoming
An hour ago we,myself and a group of 24 people from Sweden, entered the gates of the school and were welcomed by 180 school children and their teachers. We had been travelling for 24 hours and spent our first night in the village. It was with a feeling of great anticipation that we walked from our accommodation to Mama Norah's.
The group consists of students, members of staff and parents from Sigtunaskolan Humanistiska Läroverket, SSHL, in Sigtuna and for everyone in the group, except for two, it was their first visit to Wagwe and Mama Norah's.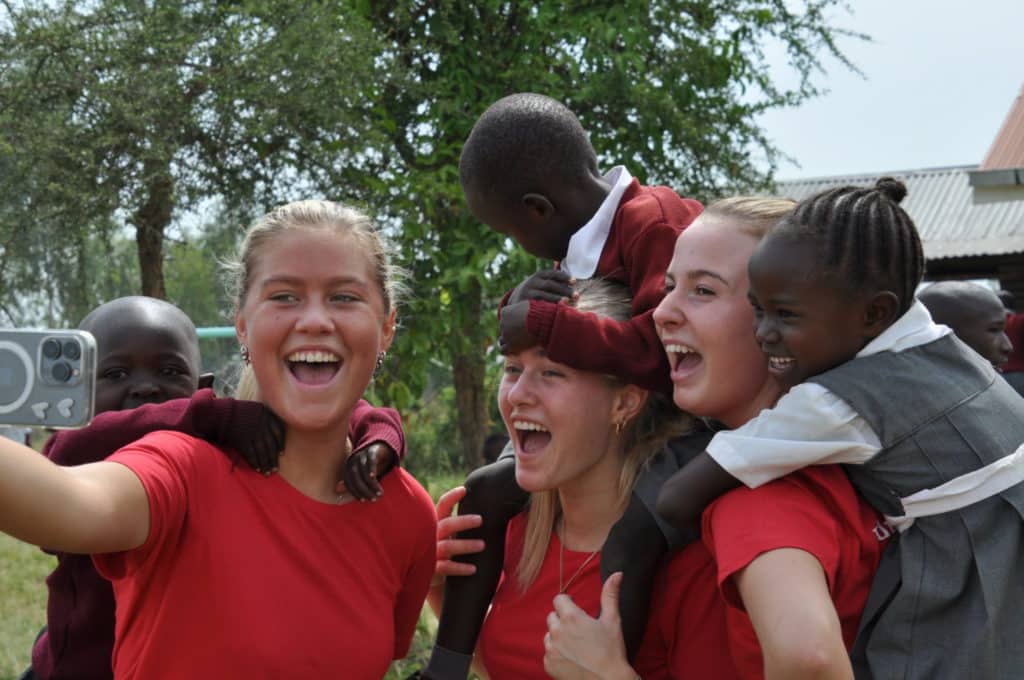 The Swedish visitors are all involved in Skolföreningen Kenyaprojektet vid SSHL (The Kenya Project Student Association at SSHL) who has initiated and founded The Mama Norah Education Centre. They have financed their journey themselves. For the past two years the administration and economy are run from Sweden by the support association for Mama Norah's Education Centre, where I am the chairperson.
The children at Mama Norah's come from destitute backgrounds. 75% of the children are supported by scholarships from the association and 25% have their own sponsors or relatives who can pay for their education.The cost per child is 200 SEK a month.That covers two meals a day, tuition, books, clean water and health care.
Curious glances
The youngest students observe us visitors with curiosity. Due to the pandemic we have not been able to visit the school since February, 2020. Many of the youngest students have not seen white people before and we probably make quite a daunting impression on them. Soon enough they realise that the older students and their teachers greet us as family members and the ice is broken.
The first ones to seek contact with us are the 17 students from 8th grade. They have attended Mama Norah's since January 2014 and are thus used to visitors. Now only four weeks remain until they graduate and hopefully they will be able to move on to high school in other schools. A joyful moment is when the students recognise one of the visitors, Fanny, an SSHL alumna who has already visited the school twice in the past and is now back on site. Fanny also immediately recognises some of the students and their reunion is very emotional.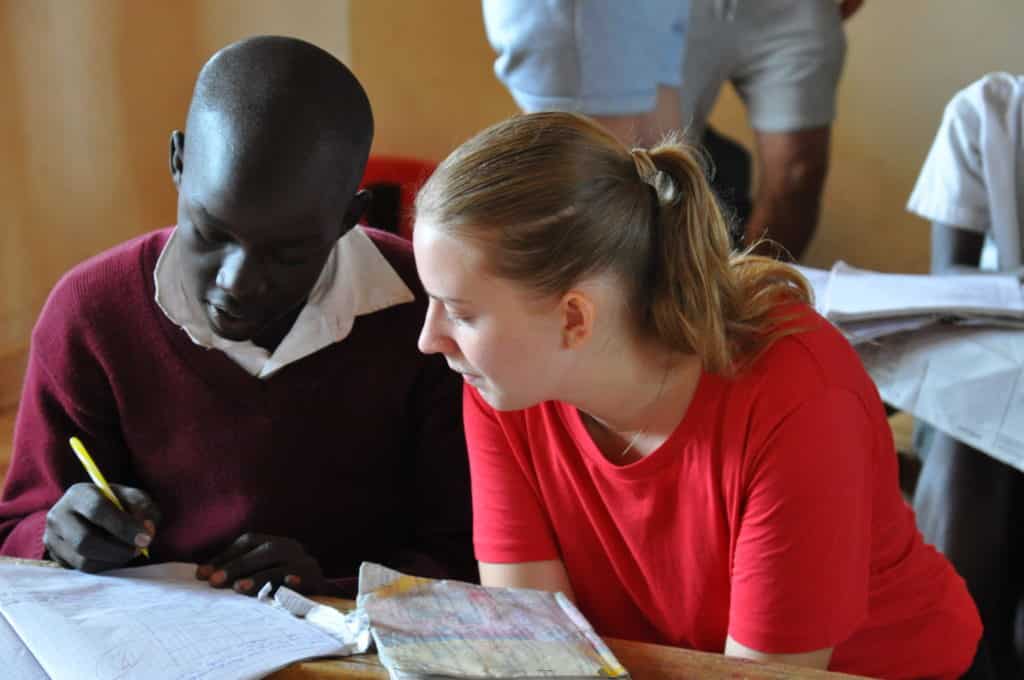 A nice encounter around a school bench.
Tour of the campus
The school bell rings, indicating that the break is over and all the students enthusiastically return to their classrooms. We take this opportunity to take a tour of the campus together with George, the manager of the school, and the head teacher Denish. The school was inaugurated in January 2014 and then had 40 pupils and six employees. The premises consisted of one school building with two classrooms, a small office and staff room and the kitchen was in a small steel hut. Today it has developed into a complete elementary school with 180 students ranging from nursery school to grade 8. We have 13 teachers and in total 20 employees.
In addition there is a school building with seven classrooms, a library and a computer room. Next to the big kitchen there is a drilled well that supplies the school with clean water. We also have a new administration building with an office and a staff room.The day prior to our arrival the construction of  the new assembly hall commenced. It will function both as a canteen, an assembly hall and an extra classroom.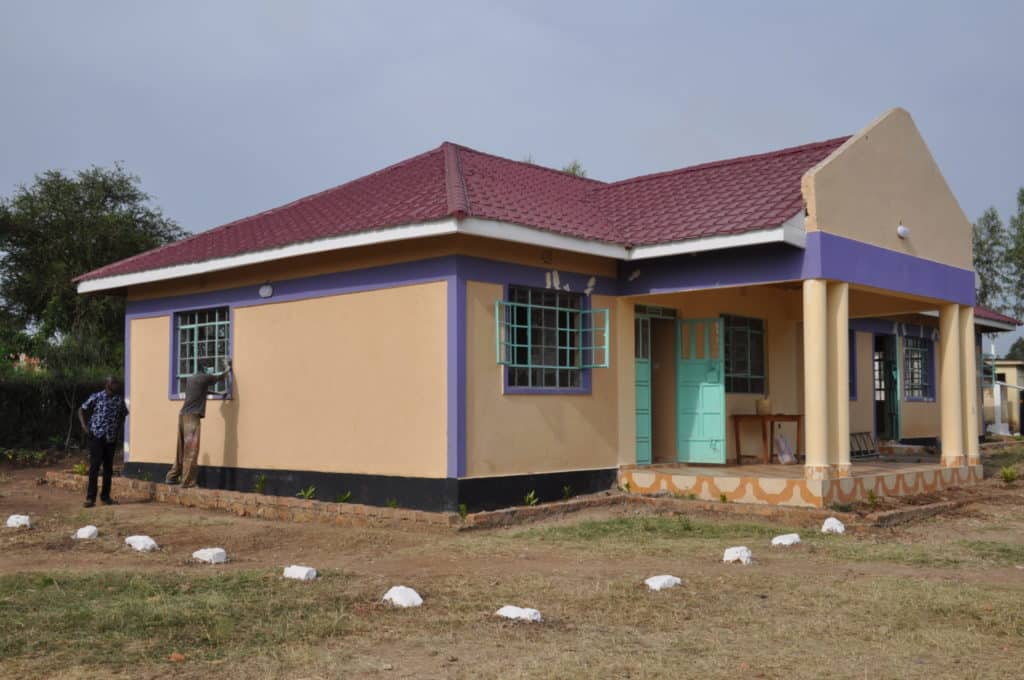 Mama Norah's: The new administration building
The Swedish visitors are now strolling curiously around the classrooms observing the lessons. The contrast between these classrooms and the ones back home in Sweden is striking.One of the visitors later reflects on the fact that all the pupils really seem to love going to school and when the teacher asks a question all the pupils wave their hands in the air, eager to show what they have learned.
Digitalisation in process
The library and the computer room are full of feverish activity when we are visiting. The group from Sweden has brought 40 computers that were discarded at SSHL but then repaired and restored. 250 malfunctioning computers have resulted in 50 fully functioning computers.A  group of Swedish students and Kenyan teachers prepare the computers for use in the classrooms. During our visit a mobile Wi-Fi with a fixed network was installed and Mama Norah's now has a 4G Wi-Fi.
A big challenge in many countries lacking resources is to keep up with the digital development. In spite of this requirement in the national curriculum the prerequisites to fulfil this demand are lacking in  many schools. We are indeed proud to be able to provide our staff and pupils at Mama Norah's with this opportunity.! They now have access to tablets and computers, the teachers have been given basic training which they will continue online from Sweden.
Thoughts and reflections
The first day at Mama Norah's is drawing  to a close and back at our accommodation we gather to reflect on our impressions during the day. Very soon we share comments about how happy everyone seems in spite of seemingly lacking possessions. Thoughts about worldly possession being a liability surface and everybody agrees that the notion that many of us might bring from home – that being poor equals being unhappy – has totally been knocked over. Everyone seems deeply affected by the warmth and joy that they have encountered and full of impressions we go to bed underneath our mosquito nets and fall soundly asleep.
The following morning is a Friday; we are awoken by the roosters of the farm (?) at the crack of dawn and at 8 we are all back at Mama Norah's for yet another day at the school. On Mondays and Fridays the school day starts with a raising of the flag ceremony. As it's Friday the school also holds a Friday prayer. With somewhat hoarse voices we sing our national anthem,' Du gamla du fria', during the raising of the Swedish flag, after which we enjoy beautiful songs and hymns during the prayer.
On Fridays 'games' are on the schedule after lunch and  to everyone's great joy we present all the balls that we have brought from Sweden.There is a general shortage of balls all over the world this year and the school has not really had a proper ball for a long time. Now there are simultaneous games of football, volleyball and basketball being played in the school yard, which proves to be a real challenge for our Swedish students in the 35 degree heat.
A lump in my throat
Feeling the need of a moment to myself I climb the stairs of the main school building and stop in the external corridor outside the classrooms on the second floor. From there I can look out on the entire campus with its buzzing activities; and when I raise my eyes I have a spectacular view over Lake Victoria and a cooling breeze from the lake reaches me.
I peer down at the school yard. Tears begin to fill my eyes, I swallow and blink.It's 17 years ago since my former colleague Alice and I were talking about how huge the challenge was for her to leave Wagwe and move to Sweden, in order to provide for her entire family in Kenya. It's nearly 17 years ago since our Swedish students arranged their first activity to raise money to make it possible for their peers in Wagwe to go to school. It's been eight years since the first 40 children started school at Mama Norah's. 17 of these children are now in grade 8, ready to leave us in December. All of them are scholarship students and I'm thinking of how to find personal sponsors for their high school fees.
I came here for the first time in 2011, this being my 17th visit and during ten of these I've been accompanied by a group of students and adults. I am infinitely grateful to be part of this project.
The sound of the school bell
I'm brought back to reality by the sound of the school bell ringing. It's 4 pm and time to lower the flag and get ready for the weekend. We reunite for a round of reflections and at the same time prepare the weekend activities. As we have had some problems with the Wi-Fi and electricity during the day we will need to reserve this weekend to resolve computer issues.
Electricity is only available at the state school in the village and thus we have to rely entirely on solar energy. Our batteries were flat and had to be changed after which we had enough electrical power to be able to charge all the computers we had brought.
Drums and motor bikes
Apart from pursuing our digitalisation work we will also go on some excursions. On Saturday we visit the local parish church. Here readings from the Bible alternate with narratives from the members of the congregations, singing, dancing and music. Every time somebody gets up to say something they are honoured with drums and dancing. After three hours we leave the church, perspiring but happy with yet another incredible experience to store in our memories.
The following day we set off to new adventures. We mount 20 motorbikes to go to a boarding school 30 minutes away. Once there we are warmly welcomed by both staff and students. We are invited to visit their boarding houses and classrooms and in addition we play a friendly football match. Many thoughts about resemblances, music, social media and school- induced stress problems are shared. The students at the school entertain us with rap music, vocal singing and in the end we all sing together. During the dinner that follows the conversation theme is human relations versus material possessions.
The weekend went by in a flash and only two days remain for us to complete all the projects we had planned.I am impressed by the speed at which everyone seems to have acclimatised to temperature as well as mentality. We encounter problems that we aren't used to at home, we learn how to find creative solutions and make progress. All of us, adults as well as students, have to show skills we didn't know we possessed and we have to get to know ourselves in new ways.
In the evening the question is raised about who actually learns the most here from our visit. We – or the students and members of staff that we meet?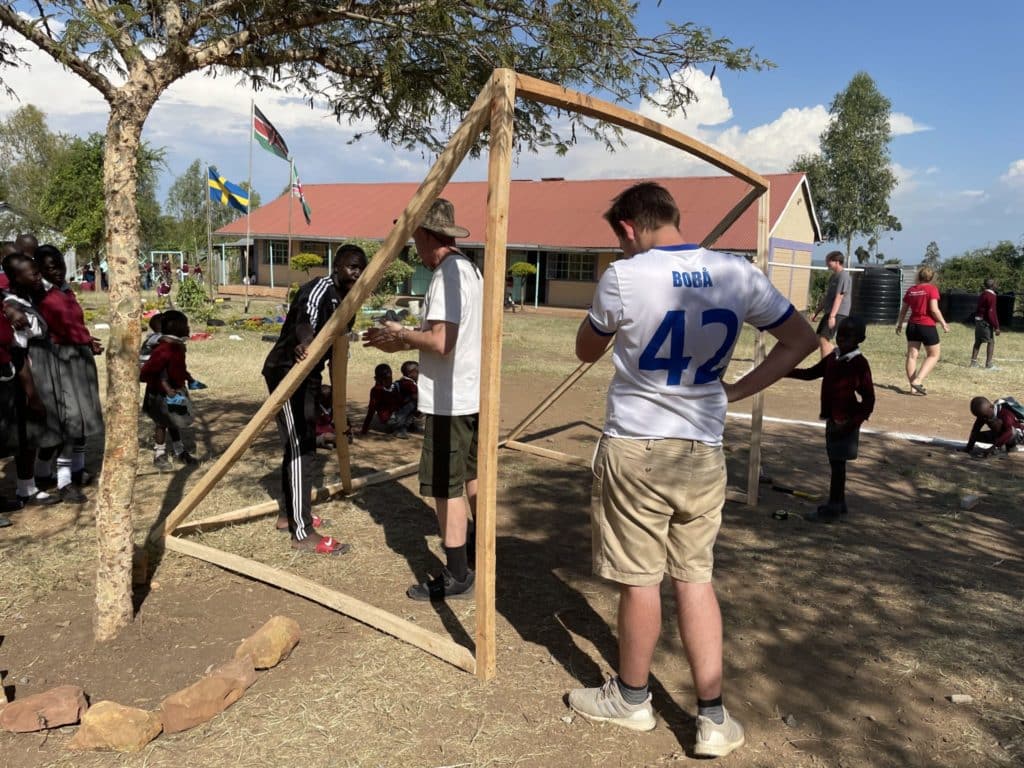 Mama Norah's 2022: Many projects and creative solutions. 
The weekend went by in a flash and only two days remain for us to complete all the projects we had planned.I am impressed by the speed at which everyone seems to have acclimatised to temperature as well as mentality. We encounter problems that we aren't used to at home, we learn how to find creative solutions and make progress. All of us, adults as well as students, have to show skills we didn't know we possessed and we have to get to know ourselves in new ways.
In the evening the question is raised about who actually learns the most here from our visit. We – or the students and members of staff that we meet?
Are there any lions or elephants?
On Wednesday morning it's time for us to move on. We squeeze into minibuses and travel the 250 kilometers to Masaii Mara. If you are in Kenya, seeing wild animals is a must. We stay at an open camp on a hill at the edge of the savannah.
Early the following morning the cars with experienced Masaii guides roll down onto the savannah and when the day has come to a close we have met elephants, giraffes, lions, hippos, buffaloes and geopards. A couple of rhinos came to say hello to us alongside our car and there were herds of zebras everywhere around. We gather around the campfire in the evening sensing that we don't have to communicate verbally,  filled with a deep feeling of gratitude.
The end – and the beginning of something new
Now only the trip by car to Nairobi and the flight back home remain. When we land at Arlanda Airport we hug and part as close friends with strong memories that we share.We all agree that this trip has left a deep impression on each one of us.
I am in the car heading for home and already now I'm thinking about my next trip. When? What will I learn and who will accompany me? Maybe it will be you as a reader of this text?
Text: Nina Plöen Stenström red.  Foto: Nina Plöen Stenström och eleverna.
Maja Nordlander, BM 23: "Last autumn I went to the school in Wagwe, Kenya, with the Kenya Project Group. The experience of that trip is something I will carry with me in my heart for the rest of my life. One particular thing that had a great impact on me was that first day when we arrived at Mama Norah's. The 180 curious students welcomed us with a song and after that it only took a few minutes before all the children came rushing up to us to say hello. All that love and warmth the children showed us deeply affected me!"
Sofie Schollin, EK 23: "I joined the Kenya Project Group during my second year at SSHL.We organise many different activities such as 'Haunted House', tying wreaths that we sell and have a stall at the Sigtuna Christmas market. These things contribute something positive to both people in Sigtuna and the children in Kenya.
Something that made a big impression on me during our visit to the school was the children's eagerness to learn, to see how hard they work and how they don't take anything for granted, they are always hungry for more knowledge and show great respect for the teaching and their teachers. They have great ambitions and goals they want to achieve". 
Photo album: please scroll down.