Swedish intensive course for ages 13-16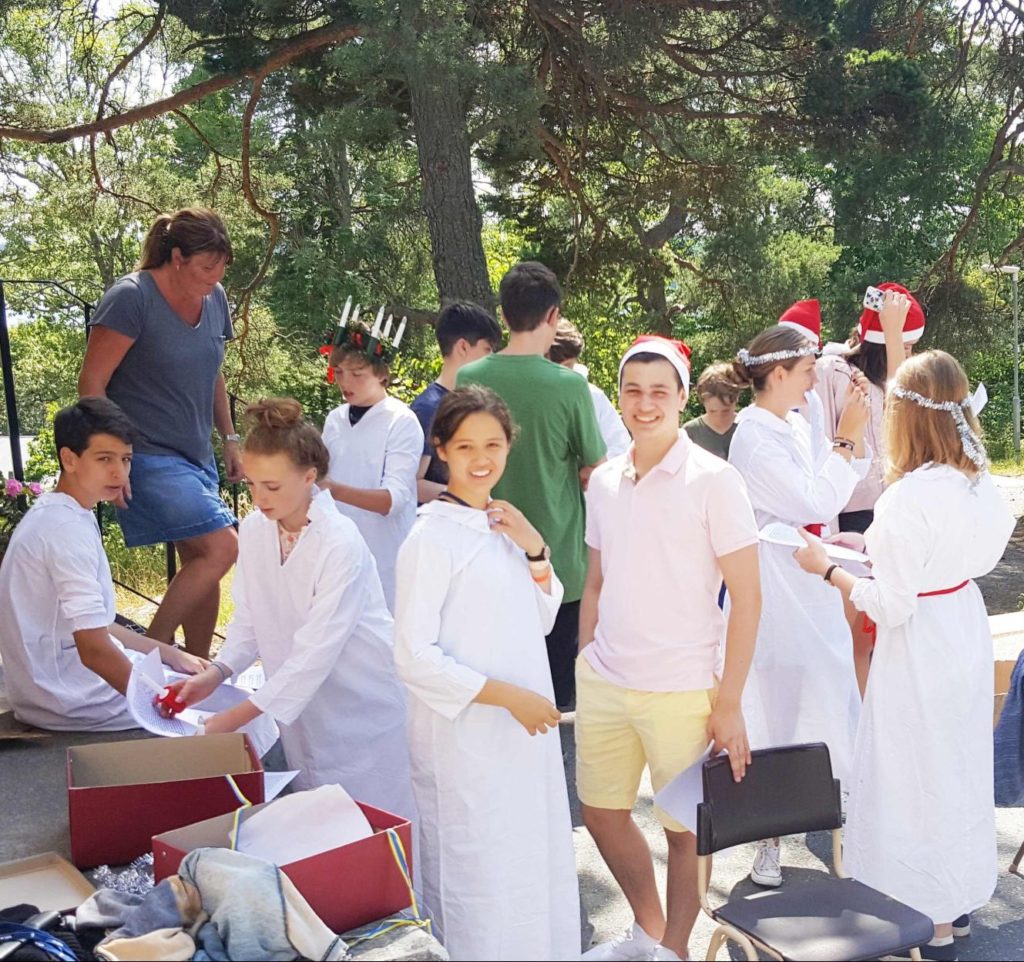 Swedish intensive course
Dates: 14-27 July 2024
Ages: 13-16
Application: via form below
Welcome to SSHL Summer School! If you are longing to join us, welcome to apply as soon as possible. Only a limited number of spaces are available.
Our Swedish Intensive Course is aimed at students between the ages of 13 and 16 with varying levels of Swedish language skills. Whether you are a complete beginner or just looking to improve your Swedish language skills to be better prepared for studies in Sweden, this course is for you!
Before the course begins, we test our students language level in order to tailor the course to each students specific requirements. Read more about the course below. 
Application for SSHL Summer School
About the course
Beyond improving your Swedish, our summer course students also learn about Swedish history, geography and culture, and some basic civic knowledge about contemporary Swedish society. This is an intensive course including literature studies as well as grammar, speech and writing exercises. Everything we teach is applied in practice.
The course is mostly taught in small groups or in one-on-one sessions, however, there are also plenty of activities for the entire group. Participants are encouraged, to explore the town of Sigtuna and its thousand-year-old history.
The course has now been running for a number of years and appeals to a variety of students from around the world, having originally been created as a way for Swedish expats to maintain a connection with  Sweden. The course gives a fantastic introduction to studies in Sweden, and to living a boarding school.
Teaching
Teaching is conducted by SSHL's own highly qualified team of teachers who have experience of the specific requirements of expats as well as non-native Swedish speakers. Upon completion of the course, participants receive a certificate. There is also the possibility to receive a statement from the teachers that verify your particular language level.
Accommodation
Participants stay at the school's boarding houses, and house parents (staff) responsible for the accommodation, will be on site 24 hours a day. During the course, most students will share a room with another course participant. Each house gives access to TV lounge, kitchen and  laundry room where the student may wash their clothes. Support is available if needed.
Meals
All meals are served in the school's dining hall, which provides an excellent opportunity for students to relax and enjoy each other's company. relaxation and to bask in good company. SSHL is committed to providing a healthy choice of meals, and all food is; These meals are health conscious and are prepared in the school's own kitchen.
Homework
Every evening, with the exception of the three days when students are away on a school trip, there is one hour set aside for homework. During this time there is peace and quiet in the boarding house and participants get the chance to do their homework with the support of both English- and Swedish-speaking teachers.
Recreation
All participants have access to the activities provided by the school's Sports & Activities department. In order to have the optimal conditions for learning there must be a balance between studying and extra curricular activities like sports and field trips. The house parents are also in charge of the students' extracurricular activities.
Amongst other things we arrange trips to Uppsala and Stockholm where we visit known landmarks, cultural heritage sites and other attractions.
Scholarships
Stiftelsen Stipendiefonden för Svensk Utlandsungdom awards scholarships to expatriate Swedish students for intensive studies in Sweden about Swedish language and society. Apply here!
Fee and payment
Course fee
– registration fee SEK 5,000
– remaining fee SEK 29,900 (to be paid 31 March)
Total fee: SEK 34,900
This includes tuition, room, board and extracurriculars.
Payment is made online through the application form above. 
Your application is complete only once your registration fee has been received.
Full payment is to be paid no later than 31 March.
Please enter your child's name in the transaction message field.
We do accept applications until 30 June if there are spaces left.
Cancellation rules
We offer full refund if cancelled no later than 31 May.
For cancellations 1 – 30 June, the refund is 50% of the course fee.
From 1 July, no refund is offered.
For more information, please e-mail: summerschool@sshl.se
Download broschure for all summer courses (pdf)