Projects that impresses and inspires
21 October 2022
The lesson has barely started, but the students are already in place and there is a buzzing of activity in the specially equipped classroom, which also features a view of Lake Mälaren.  
The teachers rush around to help the eager youngsters in class NA23 who want to get down to work. The senior highschool project (gymnasiearbete) is on the schedule and the students must continue working on their projects which have been ongoing since the beginning of the fall semester.
The projects that the students work on are small research projects where they have been given (almost) complete freedom to choose what they want to investigate and work with. Some of the students build their own prototypes to test physical and mechanical functions. Others grow plants, plan stress tests on classmates, or mix carefully selected liquids in test tubes.
Some projects have clear aims and objectives, others are still a bit unclear and in development. In any case, it is clear that there are very interesting and highly relevant questions to be investigated!
The atmosphere is at its best and it sometimes gets very intense when some of the groups have to test drive their prototypes. There is smoke, noise, and students rush back and forth. What if we do this instead? Do you think this might work better? Let's try again!
At the same time, some groups sit in silence, reading and reasoning, deeply engrossed in books and computers. Some disappear, they go to collect materials or look in on their small projects elsewhere.
#soil
A student who has his project on growth in the conservatory is Elias Strömland. Here, wheat grows in different types of soil that are taken from different places. He wants to know which soil is most beneficial and which crops are suitable for use in a crop rotation. To help him, he has contacted SLU in Uppsala, which assists with knowledge and ideas.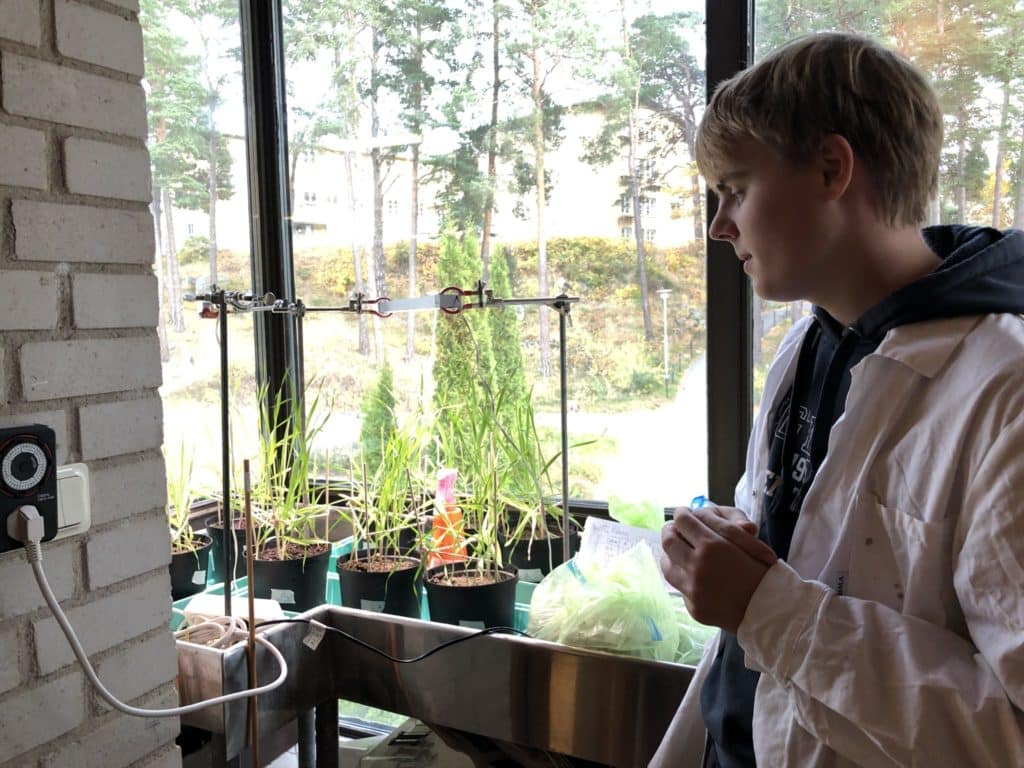 Elias has placed the wheat plants with access to daylight and at the appropriate temperature. 
#honey
Marike Muselaers and Heidi Backen both keep bees. Bees and honey are a big interest in the families of these two friends. For them, it is interesting to know if the honey has the same antibacterial properties when it is freshly poured as when it is a year old. And do the antibacterial properties differ when bees collect pollen from different types of landscapes and flowers?
#stress
How do we handle stress in different situations? Isabelle Gyllenhammar and Felicia Dahlqvist want to find out, by conducting a stress test on a number of schoolmates. Test groups will be recruited via a survey, where students can sign up as volunteers. In the test, the students must solve puzzles in time, while blood pressure and pulse are measured. This is done both with and without music in the background. Method and implementation are meticulously planned.
#nicotine
How do plants react when they are irrigated with water containing nicotine? How much nicotine can the plant tolerate? There is smoke in the hood. Oskar Högmo-Utstöl has already started extraction of nicotine which is collected in the water cup via a nifty condensing device. Today we know that nicotine affects the human body in a certain way. It will be exciting to see how Oscar's experiment will illustrate how plants react.
#air
What happens if you put a ball in a tube that you then close and empty of air – and then quickly let the air in again at one end? If you're lucky, the ball flies out the other end. The question is which ball works best. Maybe it should be a foam ball? It takes a few tries before Olof Bergvall and Emil Eckerström find the perfect solution. Either way, air is a powerful element to be reckoned with!
The students are very creative and independent. Every now and then there are questions that need to be discussed, or challenges about how to proceed in one's work. Sometimes suggestions are needed on which project to tackle. Then students can always get help from their teachers.
Below: Elias Strömland is looking after his plants.